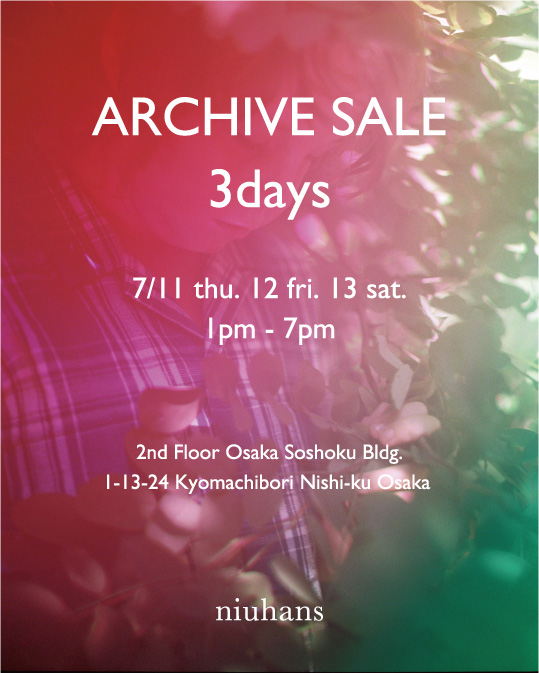 "アーカイヴ セール"
日時:7月11日 (木) 12日(金)13日(土)13時 – 19時
会場:大阪府大阪市西区京町堀1-13-24 大阪装飾ビル2F
お問い合わせ :
Tel : 03-4296-2424
E-mail : customerservice@niuhans.com
–
"Archive Sale"
We are pleased to announce to hold an archive sale in Osaka for 3 days.
We will offer our archive items from Spring&Summer collections
at special prices (discount of 50% – 80%)
Please visit the venue with your friends.
We are looking forward to seeing you.
*We can not accept returning and exchanging.
Date:July. 11th(Thu.) 12th(Fri.) 13th(Sat.)
Time:1pm – 7pm
Venue:2nd Floor Osaka Soshoku Bldg. 1-13-24 Kyomachibori, Nishi-ku, Osaka
Contact :
Tel : +81 3 4296 2424
E-mail : customerservice@niuhans.com
Tweet this
|
Share on Facebook
|
Share on Tumblr